Welcome to VillaHydra - our holiday home in Greece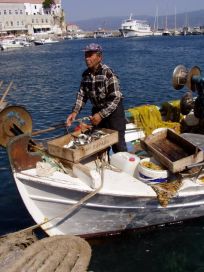 Information & Reservation
METTE & IOANNIS ROUSSIS
TEL. +45 2282 0434
EMAIL: roussis@mail.dk
See a bigger map here
Genuine Greek atmosphere in car-free island ! Private holiday home in Greece

The island of Hydra is a real gem amongst the Saronic islands located only 1-2 hours of sailing from Athens. Authentic Greek cuisine, lovely and lively café and shop environment at the harbour, mountain hiking, monasteries, small secluded beaches, snorkeling, diving, shopping, small fishing villages. Safe and child friendly.
Live in a modern holiday home and experience a very idyllic and beautiful island, no cars or scooters, stress-free, relaxation guaranteed. You may combine your trip with Athens or the neighboring islands of Poros and Spetses, or Peloponnissos (Nafplion, Epidavros, etc.). The Saronic Islands also consists of Agistri and Aegina, which are accessible from Pireaus.
We organize rental of a modern holiday home with balcony, terrace and mountain view in a family-owned house. If you know how to book your own flight ticket and can find your way to Hydra, you will have a truly Greek holiday experience. PS. No charter tourism on Hydra.
The island of Hydra was in May 2014 ranked between the Top12 Scenic islands of the world by US travel magazine CN Traveller.
New outdoor terrace ready next to the house - for outdoor relaxation all day long !